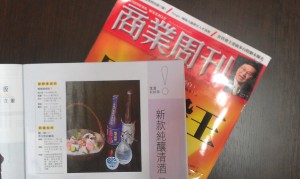 日本酒、世界へ~~来福純米大吟醸超精米8% & 仙禽鶴亀19
The vision of Ajinomachidaya is bringing quality Japanese porducts to the world.
And we are walking along the way.
This week, Raifuku Junmai-daiginjo 8% & Senkin Turu-kame 19 appeared in one of the most popular business magazines 'Business Weekly' in Taiwan.
Hope more and more people get to taste good sake overseas.